2nd annual Cove Competition #forthekids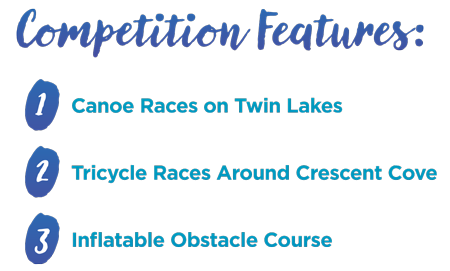 Saturday, August 3, 2019
Hosted by the Crescent Cove Junior Council
Save the date to get a team together for the second year of this fun competition at Crescent Cove featuring twists on triathlon activities. More details will be launched soon!
FAQ's: 
1) Who can participate? Teams of six are comprised of any willing participants! We ask all participants to be at least 14 years of age.  
2) What's this fundraising amount? The fundraising amount for each team is a suggested amount of $1000 to support a stay at Crescent Cove. Don't feel overwhelmed by making a goal: We'll provide you with a simple, online fundraising page to send to family and friends to help you meet that goal by the end of October, and we'll help you along the way.
3) Do I need all my teammates now? You can register a team as a team captain and tell us your teammates later! No need to have all six spots filled today; we just need them a few weeks in advance.
4) Why should I do this? Each team will be paired with one of our Crescent Cove kids, so you'll know who you're supporting. Each one of our kids & families stays at Crescent Cove at no cost, so you're helping us achieve that mission.
5) How hard will this "triathlon" be? This will be FUN, and really only take up an hour of your Saturday! And while we named it a competition, it's really all about coming out to Crescent Cove and seeing our awesome space that our kids & families get to enjoy.