6th annual Pediatric Palliative Care Symposium
Session Speakers
Ted Bowman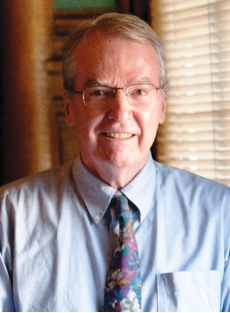 Ted is an educator, author and consultant who specializes in change and transition. He is an adjunct faculty member at the University of St. Thomas, teaching a graduate social work course on grief and loss. Ted was senior trainer for the Wilder Foundation and taught family education courses at the University of Minnesota. Ted has published more than 80 articles, chapters, booklets, and poems.He received the Minnesota Council on Family Relations Distinguished Service to Families Award in 1979, the Friend of the Network Award from the Minnesota Vocational Consumer and Family Education Network in 1988, and the St. Paul Civitan Club Clergy Award in 1994.
Joan " Jody" Chrastek, RN, DNP, CHPN, FPCN | Fairview Home Care & Hospice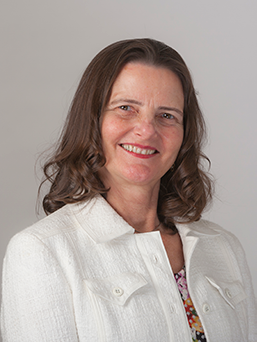 Jody is the PACCT (Pediatric Advanced Complex Care Team) Coordinator for Fairview Home Care and Hospice, Minneapolis, MN, USA. The program works in close collaboration with University of Minnesota Masonic Children's Hospital. She was born and brought up in India and trained as a nurse in Scotland. She has worked as a midwife and hospice nurse in the UK, India and the USA with adults and children. She has worked in hospice and palliative care for over 30 years in both inpatient and community settings. Her Doctorate in Nursing Practice focused on assisting adult community hospice programs to accept children. She is a member of the Minnesota State Palliative Care advisory committee, co-leader of the Pediatric Palliative Care Coalition of MN, an EPEC and ELNEC trainer, and consults internationally on palliative care nursing issues. She has published and presented on hospice and palliative care issue in journals and textbooks.
Katy Glitsos | Crescent Cove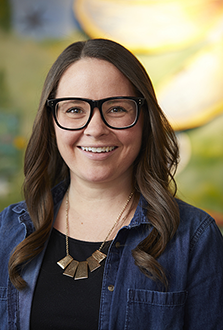 Katy joined the Crescent Cove staff in November 2017 as the Volunteer Coordinator. Shortly after, she obtained the role of House Manager. Prior to joining Crescent Cove, Katy was the Family Engagement Director at the Blasidell YMCA. Before that, Katy was the Family Services Coordinator at the Ronald McDonald House - Oak Street. Throughout the seven years she worked at the Ronald McDonald House, she provided support to children and their families through various activities, events, and family programming. Katy also assisted in the one-room schoolhouse located inside the RMH. She was involved in the Beads of Courage program, and lead Sibling Camp at Faith's Lodge for the siblings of patients being supported. Katy has a history of volunteering at the University of Minnesota's Children's Hospital where she operated the art cart! She also enjoys yoga, arts and crafts, camping, home improvement projects, and spreading love around Minneapolis with inspirational sidewalk chalk messages.
Pam Klein, MSW, LCSW | Crescent Cove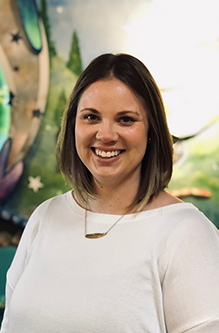 Pam Klein joined the Crescent Cove clinical staff in July of 2019 as its Social Worker. She has a Master's degree in Social Work from the University of North Dakota and 10 years of experience as a licensed social worker, mostly in medical social work and some hospice and bereavement support. Pam started as a volunteer at Crescent Cove shortly before it opened its doors, and enjoyed making the home an inviting space. She loves working closely with the Crescent Cove kiddos and families. Pam loves visiting family and friends, a good cup of coffee, all dogs, Olympic Lifting and spending time in the kitchen trying out new recipes.
Kathryn Koehne, DNP, RN | Crescent Cove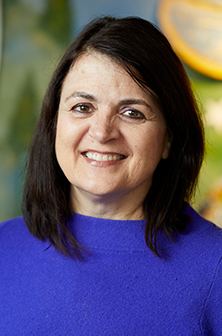 Kathryn joined the Crescent Cove staff as the Director of Nursing and Operations in 2019. After obtaining her degree in nursing from Marquette University, she worked in various pediatric position in Milwaukee, Duluth and Des Moines. Most recently, Kathryn held a nursing leadership role at Gundersen Health System in LaCrosse, Wisconsin. She obtained her doctorate nursing degree from the University of Minnesota in Health Innovation and Leadership in 2015. Her desire to return to her career passion – care of children and families – brought her to discover Crescent Cove. Kathryn is adjunct faculty at Viterbo University teaching online courses in the graduate nursing and MBA programs. She also is a national presenter and consultant, teaching nurses how to deliver safe and effective patient care through telehealth encounters. When not working, Kathryn spends time with her family -- playing, chatting, attending events, applauding at performances, celebrating successes, providing support during challenges and sharing traveling adventures. 
Anne Murphy | A Thousand Hands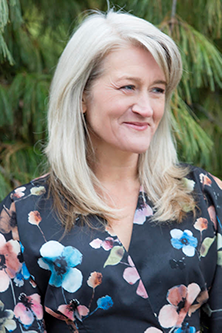 Bringing ceremony to life with a hands-on approach to death. Celebrant, home vigil guide, and death educator.  Anne is trained in the art of supporting individuals and families through the season of death and dying through heart-centered, compassionate and meaningful conversations, rituals and ceremonies. Anne is the co-founder of the Minnesota Death Collaborative, and serves on the Minnesota Threshold Network Leadership Committee and recently completed her term at the National Home Funeral Alliance Board. For more information, visit Athousandhands.com.