2nd annual Cove Competition #forthekids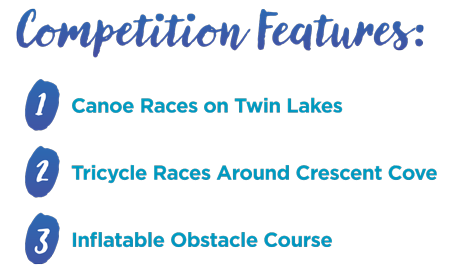 Saturday, August 17, 2019
11 am - 2 pm
Hosted by the Crescent Cove Junior Council
Come join us and be a spectator for our 2nd annual Cove Competition at Crescent Cove, featuring twists on triathlon activities. Come anytime between 11 am and 2 pm to watch the teams compete.  A BBQ lunch will be available thanks to our friends from The Love of Children, and be sure to take advantage of the family-friendly games on-site thanks to our friends at Cabela's! 
**PARKING: There is limited parking at Crescent Cove. Please park on side streets in the neighborhood, and please obey all parking signs when parking for the day.**
Teams Competing
Click on any team below to donate to their fundraising goal!
Volunteer
We are in need of many volunteers to make this day a success! If you are interested in volunteering with event set-up on Friday, August 16, or on event day (activities include: registration, team leads, clean-up, activity timing, and more!), please click here to sign-up!