Ellis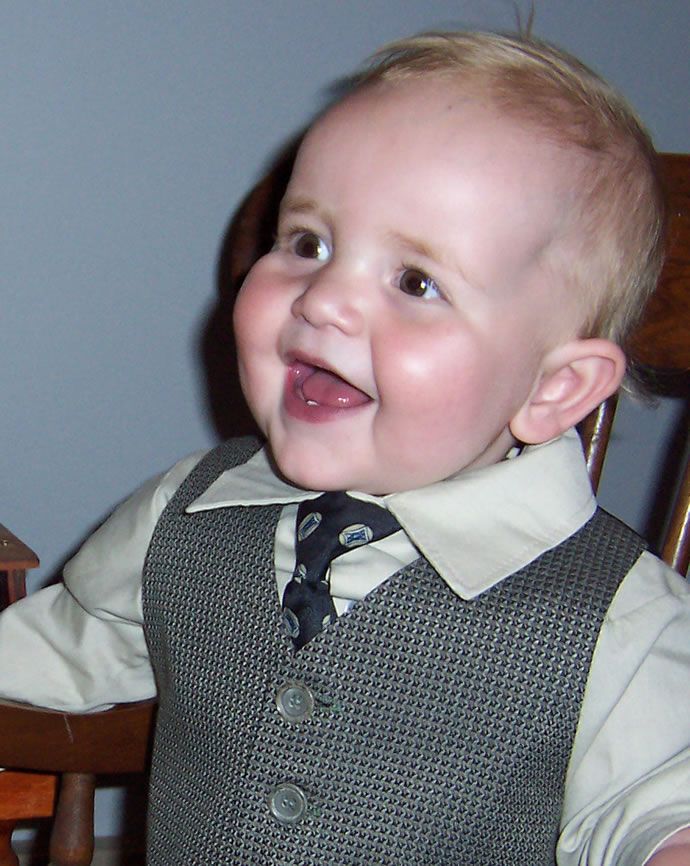 The first and most important thing you should know about our son, Ellis: he loved life. Ellis brought light and love to all he met along his path – doctors, nurses, therapists, friends, family, kitty-cats and us. The second most important thing to know about Ellis: he had a difficult life. Ellis was born with a devastating heart defect in March of 2004 and spent almost 1/3 of his short 2 ½ years of life in the hospital, often in the most desperate of medical conditions. Ventilators, feeding tubes and powerful intravenous medications were part of his reality and part of ours, both in the hospital and in our home. The third most important thing to know about Ellis: he let go of this life in December of 2006. Ellis left an unfillable hole in our lives and in the thousands of lives he touched through his story and his spirit.
Ellis loved life. Ellis had a difficult life. Ellis let go of this life. These three statements can give you a succinct storyline, but can never come close to describing the awesome and awe-full privilege of being his mom and dad. Our CaringBridge journal details the weekly, daily, or sometimes even hourly changes in his prognosis, treatment plan and condition. From the moment of his birth until the moment his heart stopped, his medical needs were intense, overwhelming and draining. We were two music teachers thrust into the world of pediatric intensive care, exposed to the unimaginable vocabulary of pediatric hospice care, while navigating the stormy waters of bureaucracy, insurance, home-health-care, medical supplies, therapies, government assistance – it is almost too difficult now to look back. We can only wonder at the courage and depth of strength that the parental instinct inspires: we will do whatever it takes to help our son.
We often wished for a light to guide us through these toughest of times. We could not even imagine the possibilities for home-hospice, for home-health-care, for pain management and peace-giving therapies when we began this journey. We groped along in the dark discovering some support here, a bit there, piecing together a patchwork of support services and leaning heavily on friends, family and our community.
What excites us now is that there is hope out there: Crescent Cove can be that beacon, shining into families lives in the midst of unspeakable grief, pain, stress and fear. A resource for support services, a respite for caregivers, a place of peace and comfort – such an amazing gift for families like ours, for children like Ellis.