Meet Mason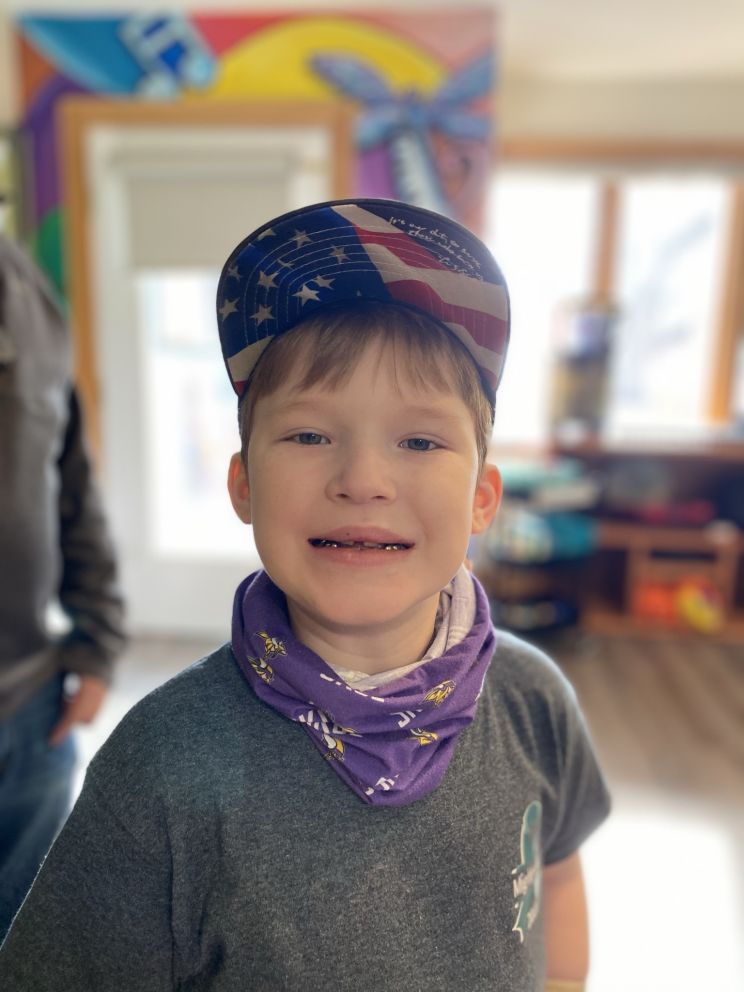 Those close to Mason will tell you he was one in a million. A spiritual 7-year-old with a huge heart and a playful sense of humor. But the medical community will tell you he was even rarer than that. So rare in fact, that when Mason was diagnosed with Gardner syndrome, doctors couldn't find anyone else in the world with his same genetic code. "We always had more questions than answers," says his mom, Shanna. "There were no answers because Mason was literally writing the book on his type of desmoid tumor."
Their journey began when Mason was 4 months old. His parents found a bump on his temple, which only grew bigger with time. The Grinnell, Iowa family traveled to the Mayo Clinic in Minnesota, the only place willing to remove the lump. That removal and follow-up tests led to his diagnosis.
Mason grew up in a loving family with his parents and two siblings. He went to school, played like other kids, and dreamed of being a fireman, but inside Mason was battling pain his whole life. As a baby, his sleepless nights were filled with screams of discomfort. As a toddler, they found medications to help reduce the intensity, but some level of persistent pain always remained.
"As he got older, he could verbalize his pain," explains Shanna. "He would say things like he felt like his bones were breaking. He had tumors all over, basically head-to-toe." But Mason was a strong boy who did everything he could to hide that pain. "He would keep it to himself until it got so bad, he couldn't handle it anymore and then he would just collapse on the floor in pain."
In October 2020, Mason's pain reached a point he could no longer bear. He stopped going to school, and they began discussing hospice with his care team. The care and pain management they were receiving in Iowa was not adequate, so they leaned back on their team of doctors in Minneapolis for more support. It was through that connection they learned about Crescent Cove.
These are heavy conversations for a 7-year-old, but not for Mighty Mason. "He was the one who packed his suitcase and said 'Mom, I gotta go soon.' He was always so intuitive, always knew exactly what was going on. Mason seemed to live halfway between here and heaven his whole life."
Mason arrived at the Respite & Hospice Home for Kids in March 2021. He jumped out of the SUV in his cowboy boots and bravely walked into the place he would spend his final days.
After living his whole life in pain, Mason's last wish was to feel as little pain as possible. The care team at Crescent Cove created a plan focused on pain management, with a dose of joy and memory making. It was exactly what he wanted. "Mason was so grateful for the staff at Crescent Cove. His whole life he felt like nobody listened to him and understood his pain, and they worked so hard to do everything they could to ease his pain and make him comfortable."
On the afternoon of March 22, Mason died at Crescent Cove surrounded by love with his parents, older brother, grandparents, and aunt by his side. "It's impossible to imagine being anywhere else during those days. Mason woke up every day saying, 'I love it here, Mom.' I can't even begin to put into words how appreciative we are to have had that."