Simon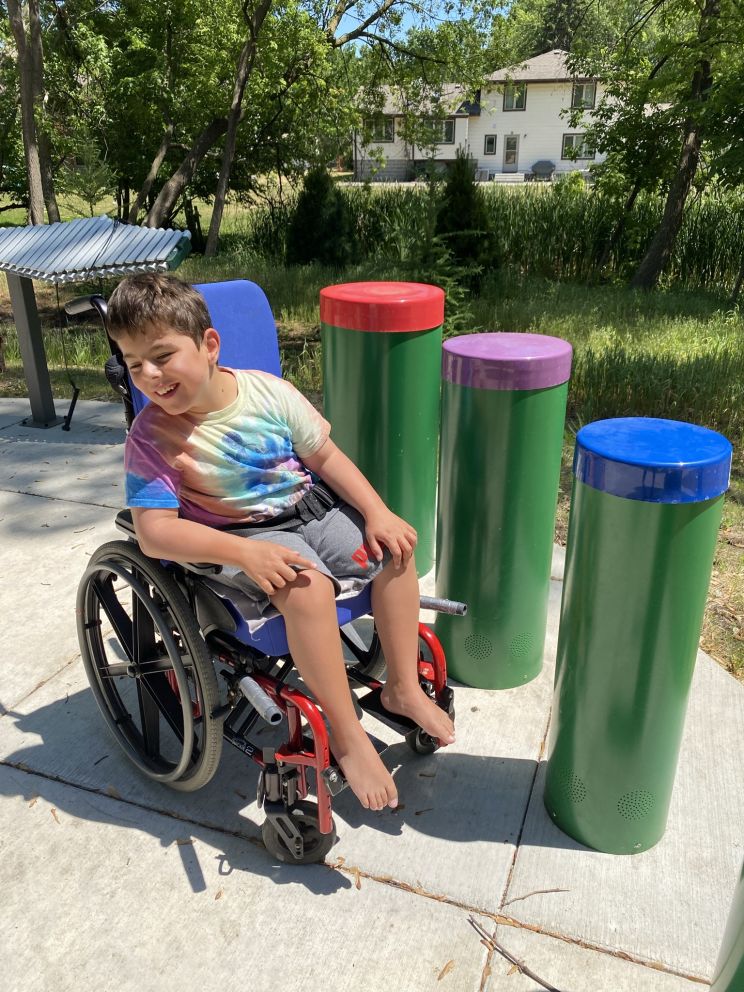 At Crescent Cove, we consider the kids and families we serve to be our extended family, so there is no greater compliment than hearing from our families that they, too, consider us their extended family.
Twenty weeks into her pregnancy, Cristin learned her son had hydrocephalus, a build-up of fluid in the brain that can cause brain damage. Simon was born thirteen weeks early, a micro-preemie weighing just 2 pounds, 2 ounces. Cristin's journey began at a time when nothing like Crescent Cove was available in Minnesota, but she knew she needed to grow her support network to help raise Simon.
Simon's diagnosis of hydrocephalus, cerebral palsy, and epilepsy meant around the clock care. Cristin and Simon's stepfather Sammy had little options for respite. "Simon has limited mobility, is largely non-verbal, and isn't able to do almost anything for himself," explains Cristin. "We didn't have anyone who could take on his level of care." In 2019, when Simon was 7 years old, they found a place they never could have imagined would exist. During Simon's first respite stay at Crescent Cove, Cristin and Sammy were finally able to visit their family living overseas. "Our family is so far away and it would be nearly impossible for Simon to make that kind of trip," says Cristin. "The only way we could do it is with Crescent Cove's help."
The couple's need for respite care grew with the expansion of their family in the summer of 2020, as they celebrated the birth of twin babies. After a short stay in the NICU, the newborns' first days at home coincided with a respite stay for Simon at Crescent Cove. "Life got a lot busier and more chaotic when we became a family of five," says Cristin. "But we were blessed to have those first two weeks alone with the twins at home to really focus on their needs."
While the couple enjoyed those precious first moments with their new babies, Simon was having a blast at Crescent Cove. "The nurses know him so well and do all his favorite things. He loves the music therapy, pet therapy, playing outdoors, going in the pool and the swing. It's like a summer camp vacation for him."
As members of the Crescent Cove family, Cristin and Sammy have found a level of relief they didn't even know they needed. "I didn't realize how busy and tiring it all was until Simon was gone for a few days. When I have a break from the constant care, when I'm not lifting him all day and am able to give my body a rest, I realize just how exhausting our everyday life is," remarks Cristin.
"And the best part is, it's really, truly a home. Simon receives the highest level of care, but with all the love and feel of a home. It's invaluable."