Meet Toby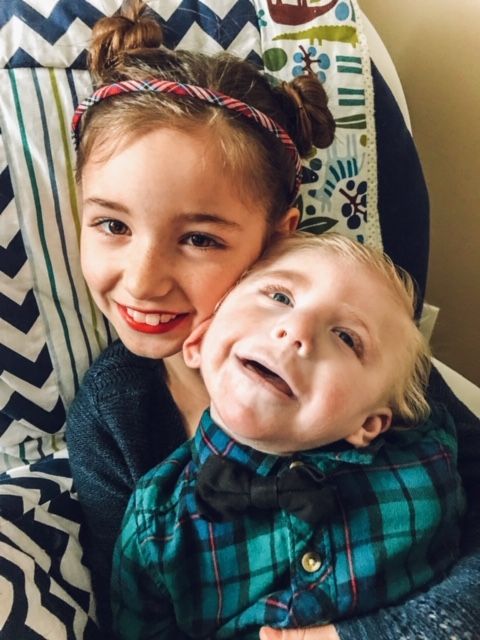 The question "how many children do you have?" is something most parents can answer easily and effortlessly. For Shannon and Jon, though, answering that question causes some heartache.
"Bella is our first-born," Shannon explains, "Landon was our second-born. He lived for 7 months, most of it in a hospital."
Landon was born in 2012 with an extremely rare genetic disorder, monosomy-6 trisomy-18, which occurs when genes are either absent or in different places on the chromosomes. It is so rare that less than one thousand babies in the world have ever been born with it. Landon lived for 7 months and died peacefully in his parents' arms. They were devastated by their loss.
Miraculously, a year after Landon died, they discovered they were expecting again, but were crushed when that pregnancy ended in miscarriage. Through their grief they continued to cherish their little girl, Bella, and as she grew, she began to ask for a sibling. One day they told her she would get her wish — a little brother was on the way.
But at Shannon's 20-week appointment, they got news they did not want to hear: their baby boy had the same genetic condition his oldest brother had. The chances of having two children with the same rare genetic condition was incredibly small, yet Shannon and Jon were given this devastating news twice.
"We put a birth plan and a death plan together to prepare for Toby's arrival," Shannon explained. "We didn't know what was going to happen."
Toby was born with a heart condition, hydrocephalus, cleft palate and a host of other complications as a result of his genetic condition. He stayed in the hospital for a while, but eventually they were able to take Toby home.
They cared for him faithfully day-by-day, and to the doctor's amazement he made it to his first birthday, defying the odds of his genetic condition.
Toby has now celebrated two birthdays with his family, who love to see him smile. "We feel so fortunate that we've had him for two years now," Shannon says, "We don't take a single day for granted."
Bella has adjusted to having a little brother and wants him to join her on her adventures. She will often encourage her parents to let Toby do things that they were hesitant to let him try.
Toby's condition requires significant care which his parents provide around the clock. They were told about Crescent Cove from a friend of theirs and wondered if they could benefit from their services. They got in touch with Katie Lindenfelser, executive director and founder, and their lives have been greatly enriched.
"Many families break apart because of the death of a child, or while caring for a special needs child," Shannon says, "We've had both of those things happen. We appreciate how Crescent Cove takes care of the whole family. They fill a gap that no one else fills, caring for the caretakers."
Both Shannon and Jon have gotten massages provided by Crescent Cove, something they would have never taken the time or spent the money on for themselves but that provides relief from their stress. Toby has also visited Crescent Cove so that Shannon and Jon could enjoy an evening out.
The first time Toby spent some time at Respite & Hospice Home for Kids in Brooklyn Park, his parents were concerned if the staff would be able to care for Toby, but were quickly put at ease. "Everything there is adaptable. When Toby's at Crescent Cove, his disability is not a barrier to anything," Shannon says. "It's so welcoming there, not just to the child but to the entire family." Bella got to stay for a while as well and bake cookies with staff members. She wants to go back with Toby the next time he visits.
Shannon and Jon are looking forward to having Toby stay overnight so they can get some much-needed time to recharge. They are uncertain what the future holds for their family. "We take life one day at a time," Shannon says. They are grateful that a place like Crescent Cove exists to help families like theirs.